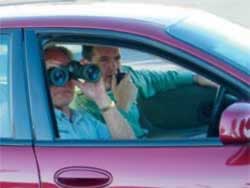 Atlas Investigations is a well-respected, highly experienced private investigation company that handles a wide variety of investigations for both companies and private citizens alike.

Atlas Investigations employs only the best private investigators. As a privately owned business, we take our good reputation very seriously. All of our investigators are highly experienced and conduct their cases with the utmost discretion.
Atlas specializes in many of the different fields required by our loyal customers, such as all types of insurance investigations, as well as, infidelity investigations. As for insurance investigations, through their association with Atlas, our business clients have profited from shorter claim duration and identification of fraudulent claim filings.
Are you looking for an experienced and skilled investigator in the New England area? Atlas Investigations has what you are looking for. Our investigators are licensed and bonded in Massachusetts, Rhode Island, Connecticut and New Hampshire, and due to our popularity, we will be expanding into other New England areas in the near future.
Providing superior quality through...
high level personal service
database technology
professional investigators
timely updates and reporting
advanced video and surveillance equipment
High level, personal service is part of what makes our company successful. Our management staff thoroughly monitors the status of all assignments and makes recommendations in order for our clients to obtain maximum results. This policy has made us successful in obtaining information that is critical to our client's needs. We use the most technologically advanced equipment, supplying our clients with the highest quality information possible. We remain committed to every case and keep our clients fully informed both verbally, and through descriptive written reports.
Atlas is always at your service for rush assignments. We're there when you need us.